I Just Called to Say I Love You
By M.F. Baker
Last night I called my mom since I hadn't talked to her in a week or two. She was in the midst of writing and illustrating a children's book, papers strewn around the living room, no one home to bother her. Neither her husband nor any of her four adult children around to disturb her creativity; allowing her to bask in a rare luxury. She recently got a mini grant from the elementary school she teaches kindergarten at to create this book, the school my three younger siblings and I attended.


"Tell me what's going on in New York" she says. "Well," I say, "work is simmering down and I'm looking forward to the summer, oh and I'm going to Miami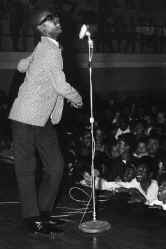 for a meeting in a couple of weeks....I'm gonna try to visit Uncle Peter while I'm down there." In a worried tone, she says "Be careful down there, it's a big city."

My response, "Mom, New York is a big city." We burst into laughter at the absurdity of her constant worrying. Then she brings up a sobering story about how my younger sister's dorm-mate's little sister had recently been found burnt to a crisp in a nearby park. "It's like that story about I.... she says. Didn't you know her older sister?" Yes, I thought. "It's just scary that two of my daughters know the older sisters of two young girls that have been brutally murdered," she says. We sat on the phone in silence for a little bit, each of us reflecting on the insane world we live in.


I changed the subject, "I'm going to a Stevie Wonder party this weekend." I chose this non sequitur because I knew the halcyon response it would generate. Without fail, every time I mention Stevie she says, "You know I saw him perform when he was 12 and I was in the 8th grade? He came to Cincinnati and performed during this hay-ride we were on." A hay-ride? I thought, how 1960's middle-America, "You mean he performed in a barn?"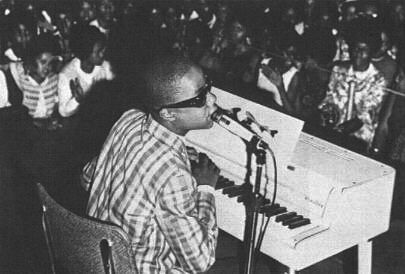 "Yeah", she said, "I remember him playing the harmonica. It was crazy because we were practically the same age, but he was this rising star." I asked her if she remembers any of the songs he sang/played. We burst into laughter again, realizing that the likelihood of her remembering anything more about the event than she had already shared was unfathomable. Thirty-plus years of smoking weed will do that to you, I guess. My mom doesn't remember much, including the time of day I was born, but she remembers when Stevie played harmonica in a barn in Cincinnati.

Despite her early exposure to the man, I didn't grow up listening to Stevie. She married my Jamaican father and
reggae was the music of my childhood. Dennis Brown, Peter Tosh, Freddy McGregor, Bunny Wailer and of course the rising star of my childhood, Bob Marley. It wasn't until my mid-twenties that I was exposed to the range of Stevie's music. Peers introduced me to his music, the music they grew up listening too with their mothers and fathers.

The one Stevie Wonder song that resonates with me most from my childhood and that reminds me of my parents when we lived in Jamaica before moving to Boston is "I Just Called to Say I Love You." It was one of the countless "songs from foreign" (said with jamaican accent) reggae artists would claim for themselves using their Caribbean beats, melodies and rhythms to orchestrate their own reggae remake.

On mother's day, or better yet, whenever the moment strikes you, don't forget to call just to say "I love you."