It was rather immature of me, but since I was about seven or eight years old, most things were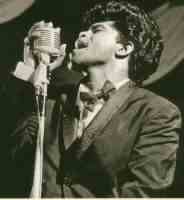 rather not mature of me, so immature may not be the correct word.
I'll always remember getting a particular sense of pride in knowing that many of the other kids on my block didn't have a song like "Say it Loud (I'm Black and I'm Proud)" that they could sing along to.
Surely, most of Puerto Rican, Dominican and South and Central American neighbors had their own cultural anthems in Spanish that I was not privy to, which actually made James Brown's classic an even more powerful statement for me because everyone I knew understood the lyrics.
You had to be Black, and Proud, to sing "Say it Loud," and once I was introduced to the 1968 classic, I was to the umpteenth degree.
One particular memory of that song was when a group of friends and I were hanging around in the old parking lot behind what was then May's department store in Jamaica Queens. There were about eight or nine of us and we had just finished one of our makeshift baseball games in the lot. As we stood there listening to the broadcast from either New Yorks 98.7 kissfm, or 107.5 WBLS, "Say it Loud," came on and as I was wont to do, I started singing along, dropping in the refrain every time it was proclaimed. One of my friends started laughing at me—he was actually one of my tormentors—always poking fun at me for everything that seemed to be flaws in his image. He was two years older and like me he was overweight and wore glasses, that unlike me, he had to repeatedly re-orient back to the bridge of his nose. His constant adjusting of his glasses made them a more prominent feature on his face, than mine on mine, which probably explains why he felt incumbent to always call me four eyes.
Well on this day Sam figured that I again would be an easy target because I was the only one to have stepped off the railing and doing a two-step as I sang along to "Say it Loud." The dirt specs from the rubber baseball that we used were whisking off my hands as I clapped them together. My other friends remained perched on the railing nodding their heads. Jesus dribbled the baseball on the pavement to the beat of the song, while Javier matched his pace by pounding the bat head along the same ground. When Sam pushed off the railing where he had been leaning and trying to mimic me started singing, "Say it loud, I'm white and I'm proud," we all stopped what we were doing and turned our attention to him. As he laughed at his own antics, we tried making sense of his delirium taking place in the foothold of the sun. We would've had our heads cocked and looking at him cockeyed just for playing the fool, but that he was doing his trick in directly in the path of the sun made our squinting all the more pronounced.
I'll never forget our friend Christian looking at Sam and saying with the utmost disdain, "what the f..k are you doing? You ain't white! Sit your fat ass down."
Sam tried explaining his dance, that he was just mimicking, that he was just…but no one was listening. James Brown was on and while they were willing to permit my offbeat singing and dancing, the crew was not willing to condone Sam's blasphemy.
When I awoke this morning to the news that James Brown had died I immediately returned to that scene and countless other moments like that one in the particular where Brown's music was a permanent fixture to post baseball game sessions. As we were being reared by hip-hop, with occasional visits by our pop aunts and uncles, our "godfather of soul" stood out the most. He was the only one from his generation who when one of his songs came on the radio, the dialed stayed in place. His most popular recordings may have been practically thirty years old by the time we were listening to them in the mid-eighties, but they felt as if they had just dropped the week before.
Brown's recordings had not only reached the legendary stature of being timeless, but they were also timely, arriving at just the exact moment to help another generation deal with the complex issues of rhythm and identity.
I have a feeling that now that now that he has passed on Mr. Brown will be in peace, but not resting. He's probably already speaking with Mozart about a song that he's always wanted to do with him. And if you listen very closely to the heavens and to your soul, you will be able to hear it any day now.
The Nightshift Chronicler